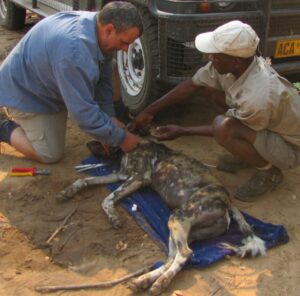 Coal Valley, Ill. (November 8, 2022) – The Nominees for the 2023 Indianapolis Prize, the world's leading award for animal conservation, have been announced and include one of Niabi Zoo's conservation partners, Dr. Greg Rasmussen from Painted Dog Research Trust in Zimbabwe, Africa.  Joel Vanderbush, Niabi's Curator of Conservation & Education, played an active role in the process and collaborated with Dr. Jane Goodall to secure Greg's nomination.
Since 2018, Niabi Zoo has been a partner with Painted Dog Research Trust (PDRT) to support their conservation efforts. Painted Dogs are endangered due to habitat fragmentation, conflict with farmers and livestock, snares, road accidents, and infectious disease. Niabi's Conservation Education team helped prepare an education strategic plan for which PDRT was able to adapt to the needs of their community around Victoria Falls, Zimbabwe. Incorporating field education has helped to change the public perception of painted dogs.
Dr. Rasmussen has been researching endangered African painted dogs in Zimbabwe since 1987. In addition to serving as the Executive Director and founder of Painted Dog Research Trust, Dr. Rasmussen is a research associate and lecturer at the University of Zimbabwe and is affiliated with the Wildlife Conservation Research Unit at Oxford University. A prolific writer, he is credited with 46 research publications and has been featured in the book Wildlife Heroes in 2012. Each year, he travels to deliver presentations at 70 zoos around the world raising conservation awareness and support. 
Greg grew up in Zimbabwe and when he started working with painted dogs, the Zimbabwean population numbered ± 200. Across Africa the population declined from 500,000 to less than 5,000 painted dogs with the primary causes being persecution and bounties. When he started in Hwange National Park,  if painted dogs crossed the park boundary all were shot within days.  Greg made it his mission to engage the local ranchers countrywide who were shooting painted dogs.  Twelve years of dedication paid off and in the year 2000, the last painted dog was shot. He is arguably the only conservationist to stop prejudiced and retaliatory based slaughter of a large carnivore country-wide.  
After winning the Wildlife Society Award in 2000 and the Whitley WildInvest Continuation Award for Conservation in 2001, his driving goal to integrate community benefit with conservation was realized when, in 2002, he founded Painted Dog Conservation. In 2014, believing strongly that good conservation must be underpinned by sound science, he founded Painted Dog Research Trust. At their field-based conservation ecology center for data-driven trans-boundary research, he works to mentor young Zimbabwean university students to train tomorrow's conservationists. Current projects include developing and deploying anti-snare collars, a research arboretum for habitat restoration, invasive species composting supporting women, a water harvesting program, and the Kazungula road project to reduce road kill of painted dogs and thousands of vertebrate species that are killed annually.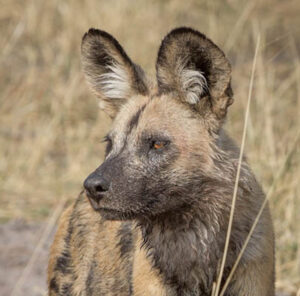 Dr. Rasmussen is a thoughtful scientist who understands the value and outcomes of data-driven field work. He has empathy for local communities and works to find solutions that are beneficial to both painted dogs and people. His commitment to building the next generation of conservationists in Zimbabwe is unwavering and has empowered a homegrown conservation community. He understands that support comes in many forms and is receptive to engaging new ideas, methods, and technologies as he works in collaboration with zoos worldwide. For his decades of diligence, superlative research, and dedication to advancing conservation efforts for the African painted dog, Dr. Gregory Rasmussen is well deserving of the Indianapolis Prize.
The Indianapolis Prize elevates a message of hope for our planet and highlights the stories of the dedicated people whose work not only saves species but ensures a sustainable future for generations to come. "The 2023 Prize nominees represent the most accomplished wildlife conservationists dedicated to protecting and preserving animal species," said Rob Shumaker, president and CEO of the Indianapolis Zoo. "It is an honor to highlight their incredible work through the Indianapolis Prize."
Nominees hail from countries across the globe with these individuals representing a diverse range of iconic and elusive species from primates, reptiles and birds and many more. The winner of the Indianapolis Prize receives $250,000 while the five finalists each receive $50,000. Selecting the finalists and winner of the Indianapolis Prize is a two-step judging structure undertaken by the Prize Nominating Committee and Jury comprised of internationally renowned conservationists and local Indianapolis representatives, who select six Finalists and determine a winner, respectively. The finalists and winner will be honored at the Indianapolis Prize Gala presented by Cummins Inc. on Sept. 30, 2023.
Learn more about the important work being done by Painted Dog Research Trust at https://www.painteddogresearch.org/ and consider donating to support their conservation efforts.