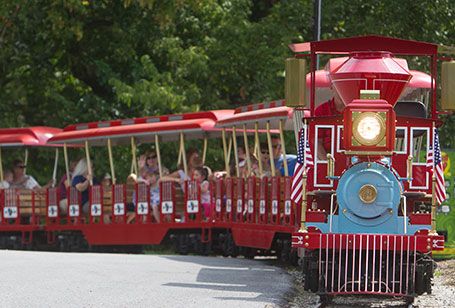 Train Rides
All aboard! See animal habitats in a whole new way when you take a ride on the Niabi Zoo express train.
Online: $3.75 per person
Onsite: $4.75 per person
(Ages 1 and up require a ticket)
Last train ride at 4:30 p.m.
The train is ADA-compliant and can accommodate two wheelchairs per ride.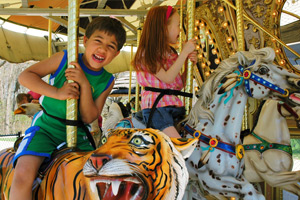 Carousel rides
Take a spin on the carousel! With dozens of animals to choose from, this is sure to be an experience you won't soon forget.
Online: $3.50 per person
Onsite: $4.50 per person
(Any rider requires a ticket, one adult can stand next to the child with no charge)
Last ride at 4:30 p.m..
The carousel is ADA-compliant and can accommodate a single wheelchair per ride.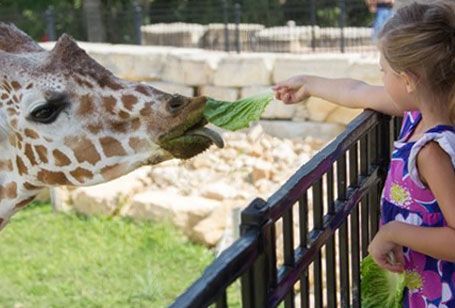 Giraffe Feeding
Get eye-to-eye and hand-feed the world's tallest land mammal from our giraffe observation deck!  
Online: N/A
Onsite: $8 per person
(Any feeder requires a ticket, one adult can go up with a child 10 years of age and under)
Every day at 11 a.m.
In the case of rain, giraffe feedings will be canceled, and refunds will be given.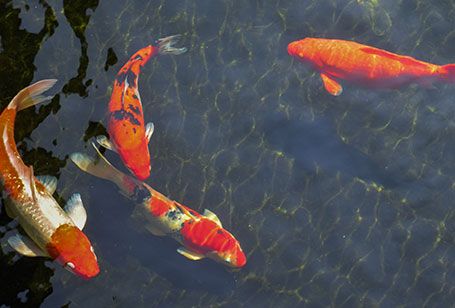 Koi Pond Feeding
Take a tranquil walk out on our koi pond deck under a beautiful gazebo and feed our lively koi fish! Keep an eye out for other pond residents like the white swan, ducks and turtles.    
Online: $1/bag of food
Onsite: $2/bag of food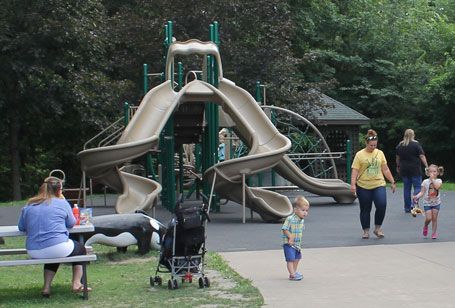 Playground
Checkout the play structure next to The Treehouse Snack Shack. The playground features a soft, recycled rubber base and splits into two sections – one for children ages 1-5 years old and a second for children 6-12 years old.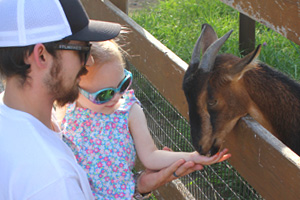 Domestic Animal Feeding
Feed your favorite domestic animals like goats, mini-donkeys, alpaca and more! Kids of all ages will enjoy this interactive experience.
Online: $1/bag of food
Onsite: $2/bag of food
*Domestic Animal Area closes at 4:00pm each day.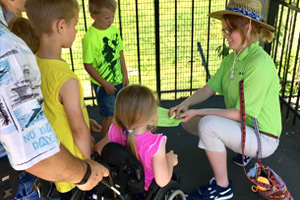 Zoo Tours
Learn about the animals and the Zoo's conservation efforts from our education team.
Themed tours include: Adaptations, Biodiversity, Habitats, Africa, Cats, Reptiles, Zoo Careers
$5.00 per person
Reserve with Field Trip or Party
Tours are 30 minutes long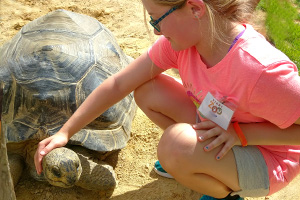 Animal Encounters
Start your day with an exclusive animal encounter! Arrive before opening and see your favorite animals behind the scenes. Go where the keepers go and get your questions answered by the people who know our zoo the best.
Choose from Sloth, White Rhino, Aldabra Tortoises and more! Discount available for members.