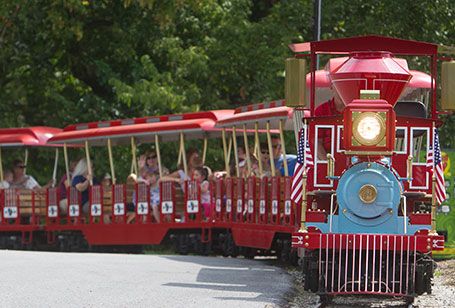 Train Rides
All aboard! See animal habitats in a whole new way when you take a ride on the Niabi Zoo express train.
$3.75 per person
(Ticket required for ages 1+)
Last train ride at 4:30 p.m. daily.
The train is ADA-compliant and can accommodate two wheelchairs per ride.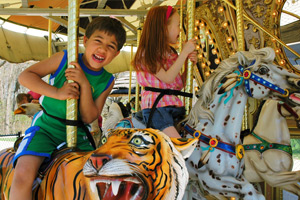 Carousel rides
Take a spin on the carousel! With dozens of animals to choose from, this is sure to be an experience you won't soon forget.
$3.50 per person
(Ticket required for ages 1+)
Last ride at 4:30 p.m. daily.
For safety, if needed, one parent can stand next to a child. The carousel is ADA-compliant and can accommodate a single wheelchair per ride.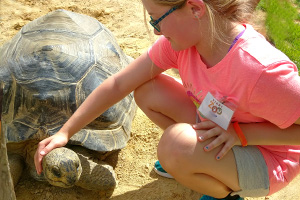 Animal Encounters
Start your day with an exclusive animal encounter! Arrive before opening and see your favorite animals behind the scenes. Go where the keepers go and get your questions answered by the people who know our zoo the best.
Choose from Big Cats, Giraffes, Bactrian Camels, or Aldabra Tortoises! Discount available for members.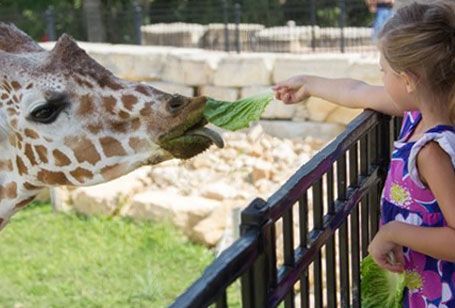 Giraffe Feeding
Get eye-to-eye and hand-feed the world's tallest land mammal from our giraffe observation deck!  
$5 per person
(Ticket required for ages 1+)
Everyday at 11 a.m. and 2 p.m.
In the case of rain, giraffe feedings will be moved inside the giraffe barn.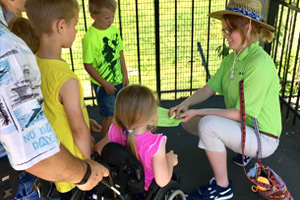 Zoo Tours
Walk the grounds with a member of our education team and learn more about the animals, their adaptations and habitats, as well as the Zoo's conservation efforts.
$4.00 per person
(Ticket required ages 2+)
Daily at 10:30 a.m. and 1:00 p.m.
Departs from the Zoo Map next to the Wild Things Gift Shop
Tours are 30-40 minutes long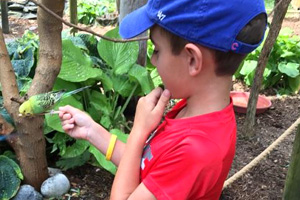 Budgie Feeding
Now closed for the season!
Step into our aviary with over 150 budgies, also known as parakeets. Experience the energy of these colorful, vocal birds as they eat from a seed stick in your hand!
$3 per person
(Ticket required for ages 1+)
Last feeding: 4:30 p.m. daily.
Seasonal experience offered between mid-May and early-September. Check with the main entrance for availability.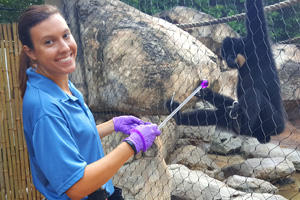 Zookeeper Chats
Have you ever wanted to know what it's like to care for the animals in the zoo? Here's your chance to hear from the experts, Niabi's very own zookeepers!
FREE
Daily at noon and 3 p.m.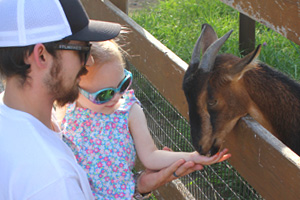 Domestic Animal Feeding
Pet and feed your favorite domestic animals like goats, mini-donkeys, alpaca and more! Kids of all ages will enjoy this interactive experience.
$0.50 feeding*
Dispenser only takes quarters.
No advanced ticketing required.
*Coin machines located at front gift shop and Domestic Animal area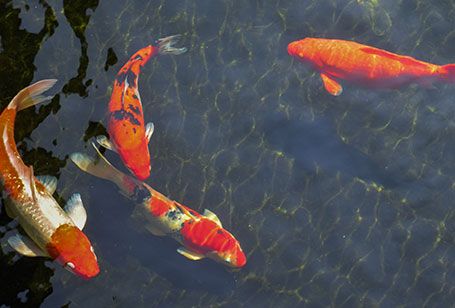 Koi Pond Feeding
Take a tranquil walk out on our koi pond deck under a beautiful gazebo and feed our lively koi! Keep an eye out for other pond residents like the white swan, ducks and turtles.    
$0.50 feeding/coined dispenser in area.
Dispenser takes quarters only.
No advanced ticketing required.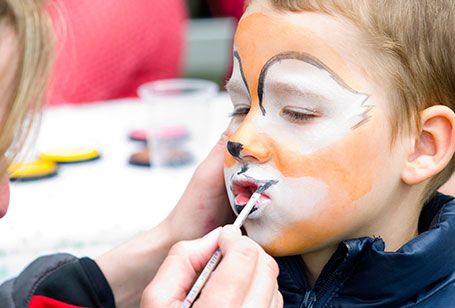 Face Painting
Swing by the "Bling It On" station near the carousel to transform into a tiger, superhero, princess and more. Our face painters, Changing Faces Quad Cities, are at the zoo every  Thursday-Sunday (weather/business permitting) and available for zoo birthday parties year-round.
Cost varies by design: $4 to $12
Thursday-Sunday 11:00 a.m. to 4 p.m. (weather/business permitting)
Cash only.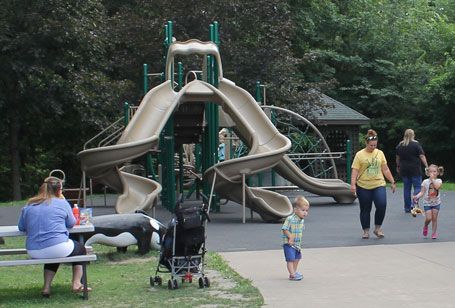 Playground
Checkout the play structure next to The Treehouse Snack Shack. The playground features a soft, recycled rubber base and splits into two sections – one for children ages 1-5 years old and a second for children 6-12 years old.